People having been talking about the long and healthy lifespans associated with the Mediterranean diet for decades. The Mediterranean diet focuses on fruits, vegetables, whole grains, beans, seafood and healthy fats like olive oil and nuts, while limiting red meat, sweets, processed foods and high-fat dairy.

This well-balanced diet has decades of research backing its wide range of health benefits. It's been shown to help reduce the risk of heart disease and stroke, improve brain health and gut health, lower blood pressure and blood sugar, promote weight loss and even improve symptoms of depression. The below menu gives you an idea of what 1,500 calories on the Mediterranean diet might look like.
Farro and Spinach Breakfast Salad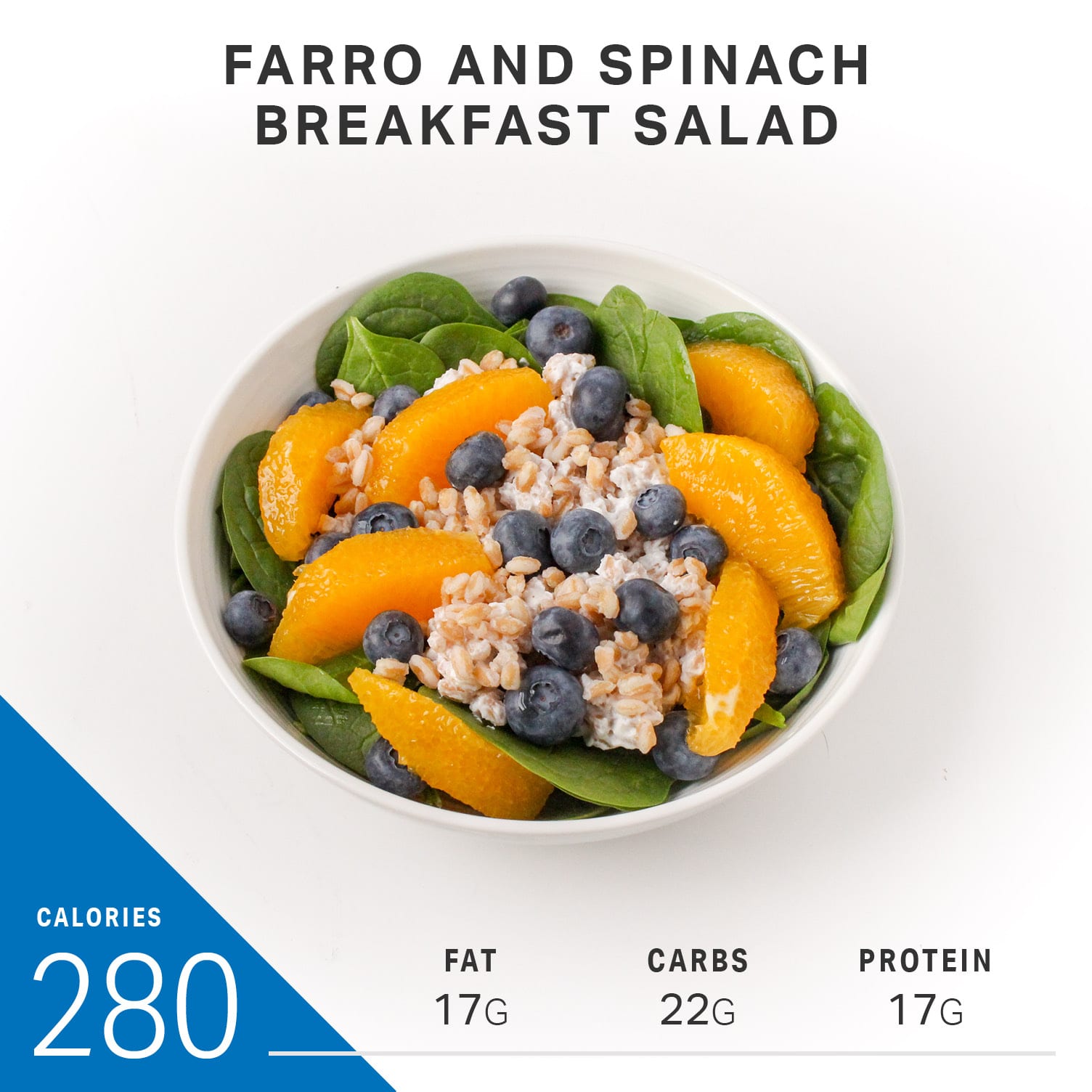 Ingredients

1/2 cup (100g) farro
1/2 cup (130g) fat-free Greek Yogurt
1 large navel orange, zested, peeled and sectioned
2 teaspoons honey
2 cups (450g) baby spinach, coarsely chopped
1 cup (150g) fresh blueberries

Directions

In a small pot, bring 2 cups (500ml) water to a boil, and add the farro. Cook until tender: pearled farro cooks in 25 minutes or so, whole farro in 35–40. Drain and let cool.
In a medium bowl, stir the yogurt, orange zest and honey. Cut the orange sections into bite-sized pieces, if desired.
In a 4-cup storage container, combine the farro and the yogurt mixture and stir well to mix. Add the orange sections, spinach and blueberries and stir to combine.
Makes about 4 cups

Serves: 2 | Serving Size: 2 cups

Broccoli Quinoa Tabouli with Herb Baked Salmon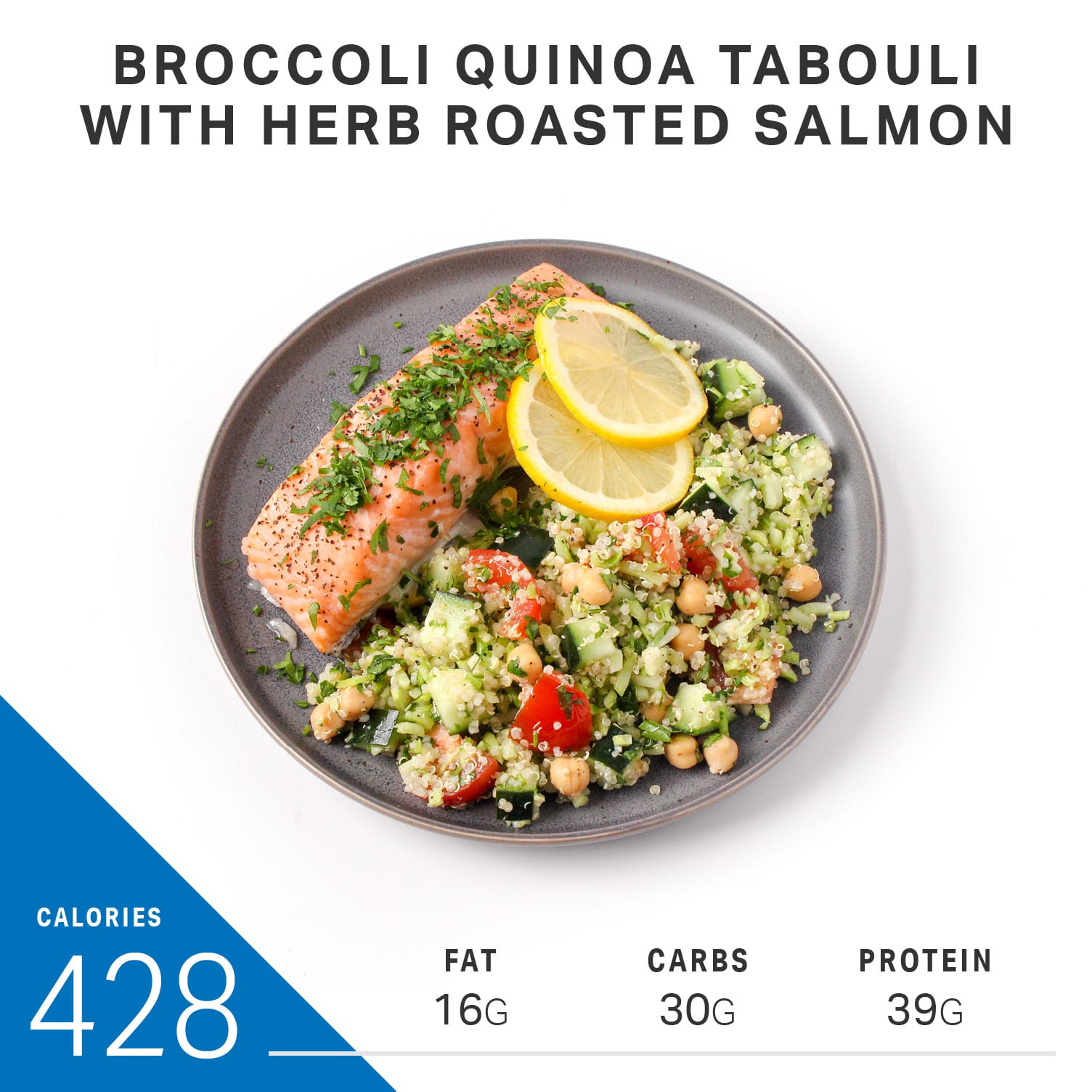 Salmon

Ingredients:

2 lemons
8 to 10 parsley sprigs
extra virgin olive oil
1 whole skin-on side of wild salmon, such as sockeye or coho, about 2 pounds
1/2 teaspoon kosher salt
fresh black pepper, to taste
2 tablespoons chopped fresh dill
1 tablespoons chopped fresh chives
1 tablespoons chopped fresh parsley


Directions:

Slice 1 of the lemons thin, the second into wedges.
Place the lemon slices on a large sheet pan arranged in the center just under the fish.
Top with parsley sprigs and drizzle with 1 teaspoon of olive oil.
Drizzle the remaining 1 teaspoon of olive oil over the flesh side of the fish and rub all over, season with salt and pepper.
Transfer to the pan over the lemon slices, skin side down.
Preheat the oven to 450F.
Roast 15 to 20 minutes, depending on the thickness of the fish, until the thickest part of the fish is cooked though in the center.
Top with fresh herbs and serve with lemon wedges.


Yield: 6 servings, Serving Size: 5 ounces


Broccoli Quinoa Tabouli

Ingredients:

1/2 cup (85g) quinoa
2 cups (180g) chopped broccoli
1/2 cup (30g) fresh parsley, chopped
1 14-ounce can (398ml) cooked no-salt added chickpeas, drained
1 medium cucumber, seeded and chopped
1 medium tomato, chopped
1 green onion, chopped
1 tablespoon olive oil
2 tablespoons fresh lemon juice


Directions

In a small pot, place 3/4 cup (175ml) water and bring to a boil. Add the quinoa, return to a boil, then cover tightly and reduce heat to low for 15 minutes. While the quinoa cooks, place the broccoli florets in the food processor and pulse to mince to the size of rice. (If desired, you can chop by hand)

When the quinoa is done, quickly stir in the broccoli and let stand for 1 minute. Transfer to a large bowl to cool. When it's reached room temperature, add the parsley, chickpeas, cucumber, tomato and green onion; toss to mix. Drizzle the olive oil and lemon over the bowl and toss to coat. Serve or cover tightly and refrigerate for up to 3 days.

Serves: 6 | Serving Size: 1 cup
Carrot-White Bean Hummus in Cucumber Boats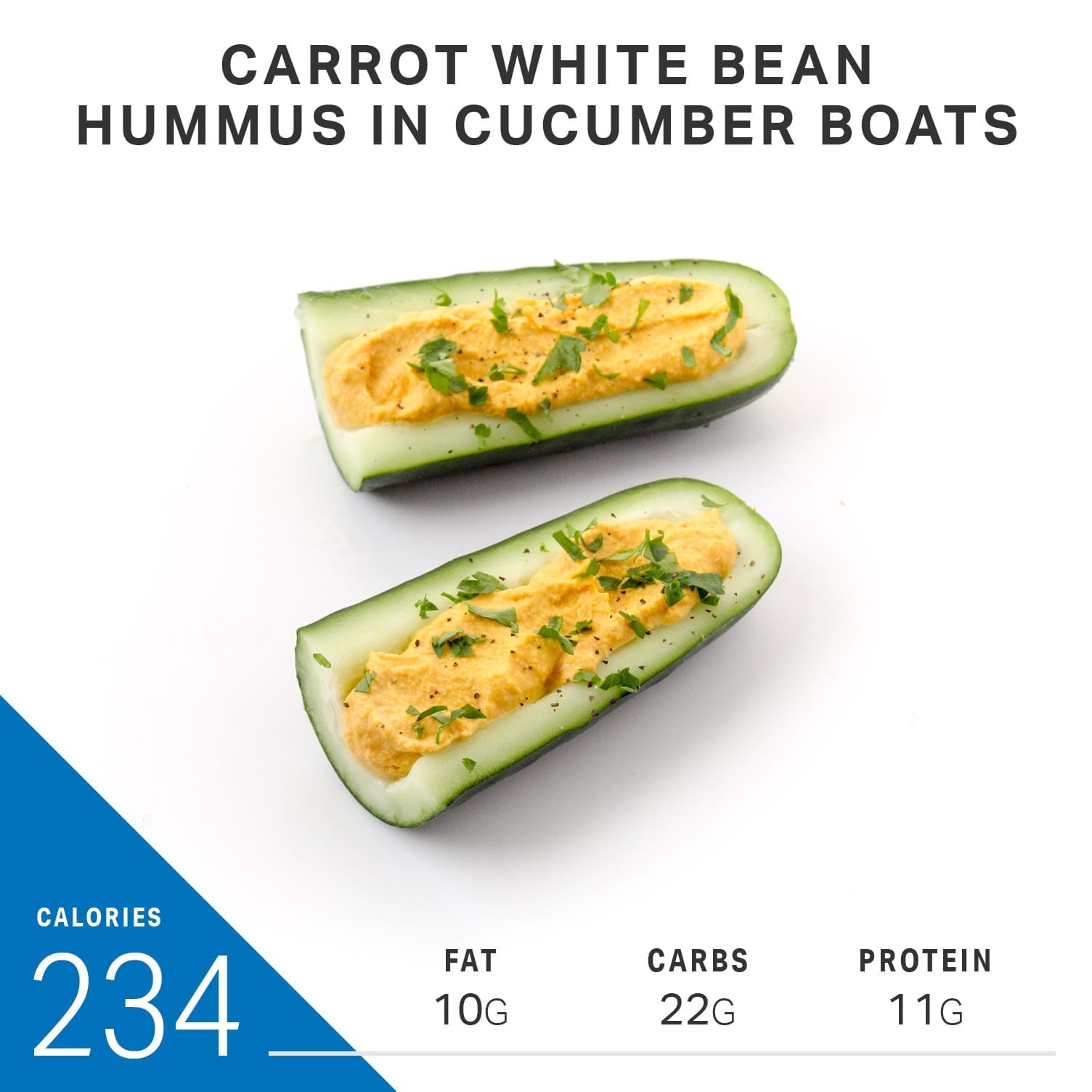 Ingredients

1 cup (240 ml) sliced carrot
4 cloves garlic, peeled
15 ounces (425g) canned navy beans, drained and rinsed
1/2 cup (120ml) tahini
1/4 cup (60ml), plus 1 tablespoon, fresh lemon juice
1/2 teaspoon salt
1/2 teaspoon paprika
5 medium cucumbers
2 large green onions, chopped

Directions

Set up a steamer and steam the carrots and whole garlic cloves over simmering water for 5 minutes. Transfer to the bowl of a food processor. Add the navy beans and process, scraping down the sides, as needed, until completely smooth. Add the tahini, and process until smooth and well-mixed. Drizzle the lemon juice through the feed tube while the machine is running, then add the salt and paprika and mix. Scrape into a medium bowl. It will be thick; if desired, stir in a little water.

To serve, peel the cucumbers, then halve lengthwise. Using a small spoon, scrape out the seeds and pulp. Spoon 3 rounded tablespoons of hummus into the cavity of each cucumber, spreading evenly with the spoon. Place on a plate, and sprinkle with green onions. Serve immediately.

Serves: 6 | Serving Size: 1 cucumber halve + 3 tablespoons hummus

Lemon Chicken With Artichokes and Kale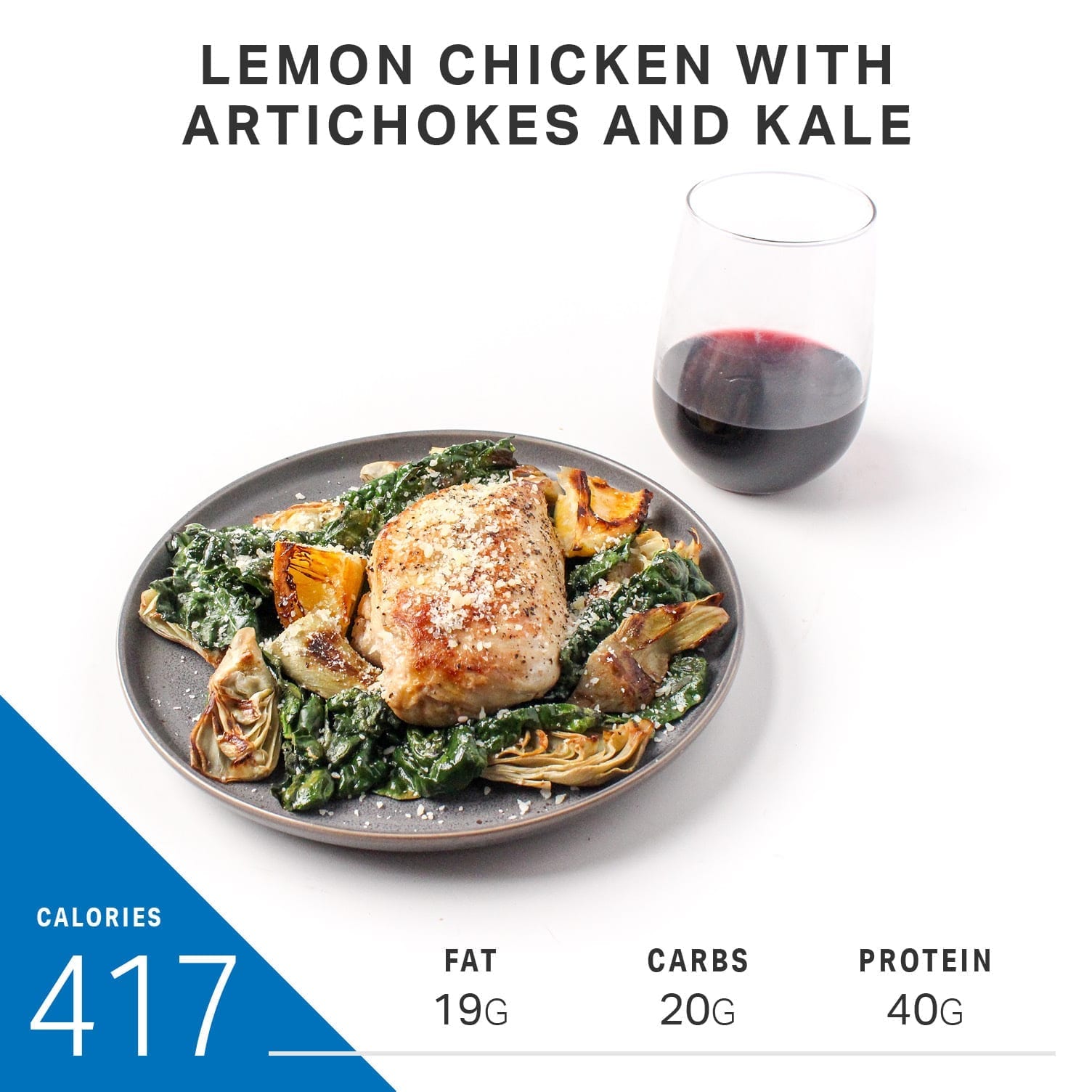 Serves 4 (serving size: 5 oz. chicken and about 1 cup vegetables)

Ingredients
1 (6-oz.) bunch lacinato kale, stemmed and torn into large pieces 3 tablespoons olive oil, divided 4 (5-oz.) skinless, boneless chicken breasts 1/2 teaspoon black pepper 1/4 teaspoon kosher salt 2 (9-oz.) pkg. frozen artichokes, thawed and patted dry 1 lemon, cut into quarters 1 tablespoon chopped fresh thyme, divided 2 ounces Parmigiano-Reggiano cheese, finely grated (about 1/2 cup) 1/4 teaspoon crushed red pepper.
Step 1
Preheat broiler to high with oven rack in top position. Place a rimmed baking sheet in oven (do not remove pan while oven preheats).

Step 2
Combine kale and 1 tablespoon oil in a bowl; massage leaves with your hands until slightly wilted.

Step 3
Sprinkle chicken with black pepper and salt. Carefully remove pan from oven. Add 1 tablespoon oil to pan; tilt pan to coat. Add chicken to pan; broil 5 minutes. Add artichokes and lemon quarters to pan. Drizzle with remaining 1 tablespoon oil, and sprinkle with 1 1/2 teaspoons thyme. Broil until chicken is done, 10 to 12 minutes. Place chicken on a cutting board. Add kale mixture to pan; broil until kale is frizzled and edges are crisp, 3 to 5 minutes.

Step 4
Return chicken to pan; sprinkle with remaining 1 1/2 teaspoons thyme, cheese, and red pepper. Squeeze lemon quarters over chicken and vegetables.
Pomegranates & Grapefruit with Honey-Yogurt Sauce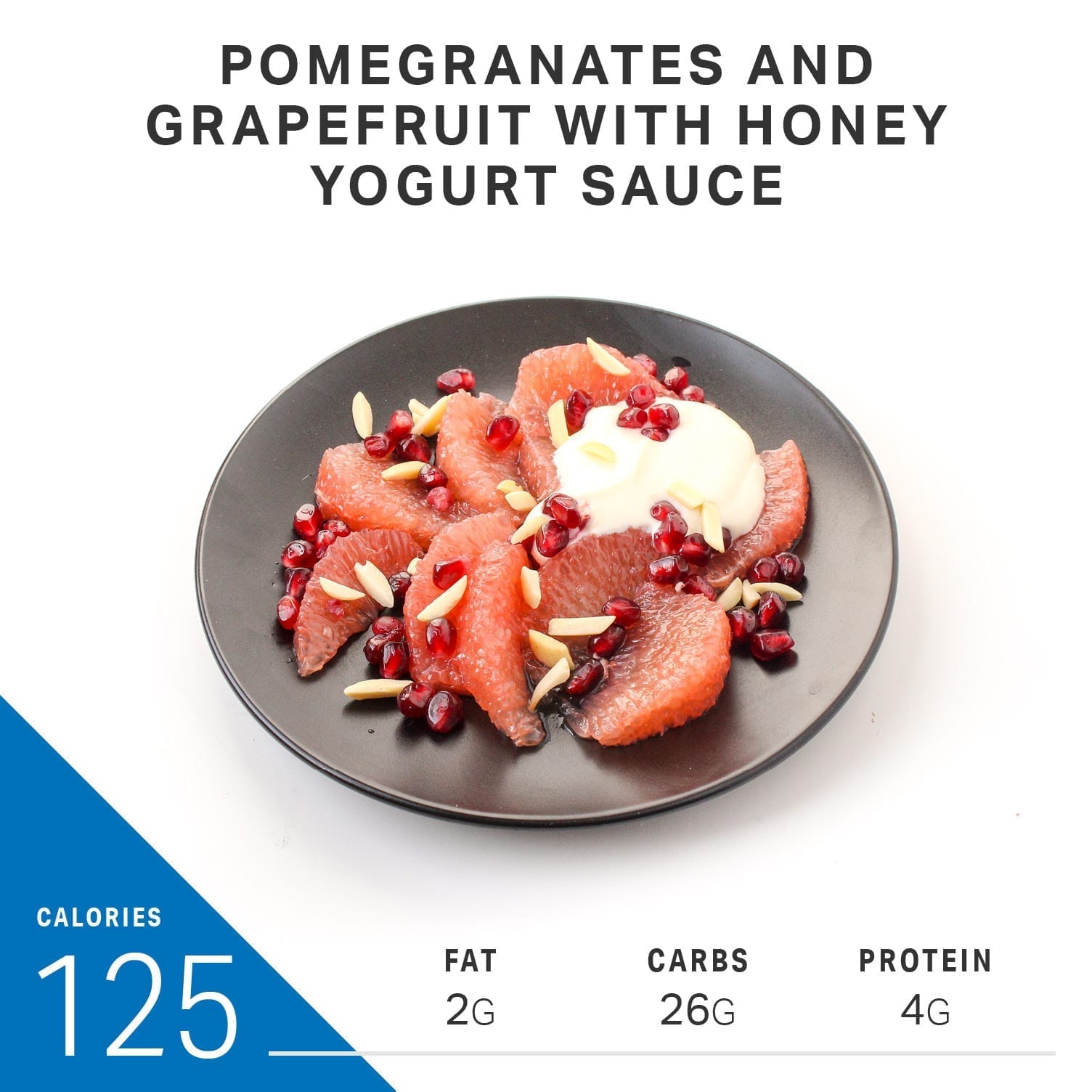 Ingredients
1 large pomegranate
2 large grapefruits
1/4 cup nonfat plain Greek yogurt
1 tbsp raw honey
2 tbsp raw unsalted pine nuts, slivered almonds or macadamia nuts
Ingredients
1 large pomegranate
2 large grapefruits
1/4 cup nonfat plain Greek yogurt
1 tbsp raw honey
2 tbsp raw unsalted pine nuts, slivered almonds or macadamia nutsServing Size: 1/2 grapefruit, 1/4 cup pomegranate arils, 1 tbsp honey-yogurt sauce, 1/2 tbsp pine nuts.
Total Calories - 1484 for the day